News
The role of light in enhancing granite colors
09 November 2023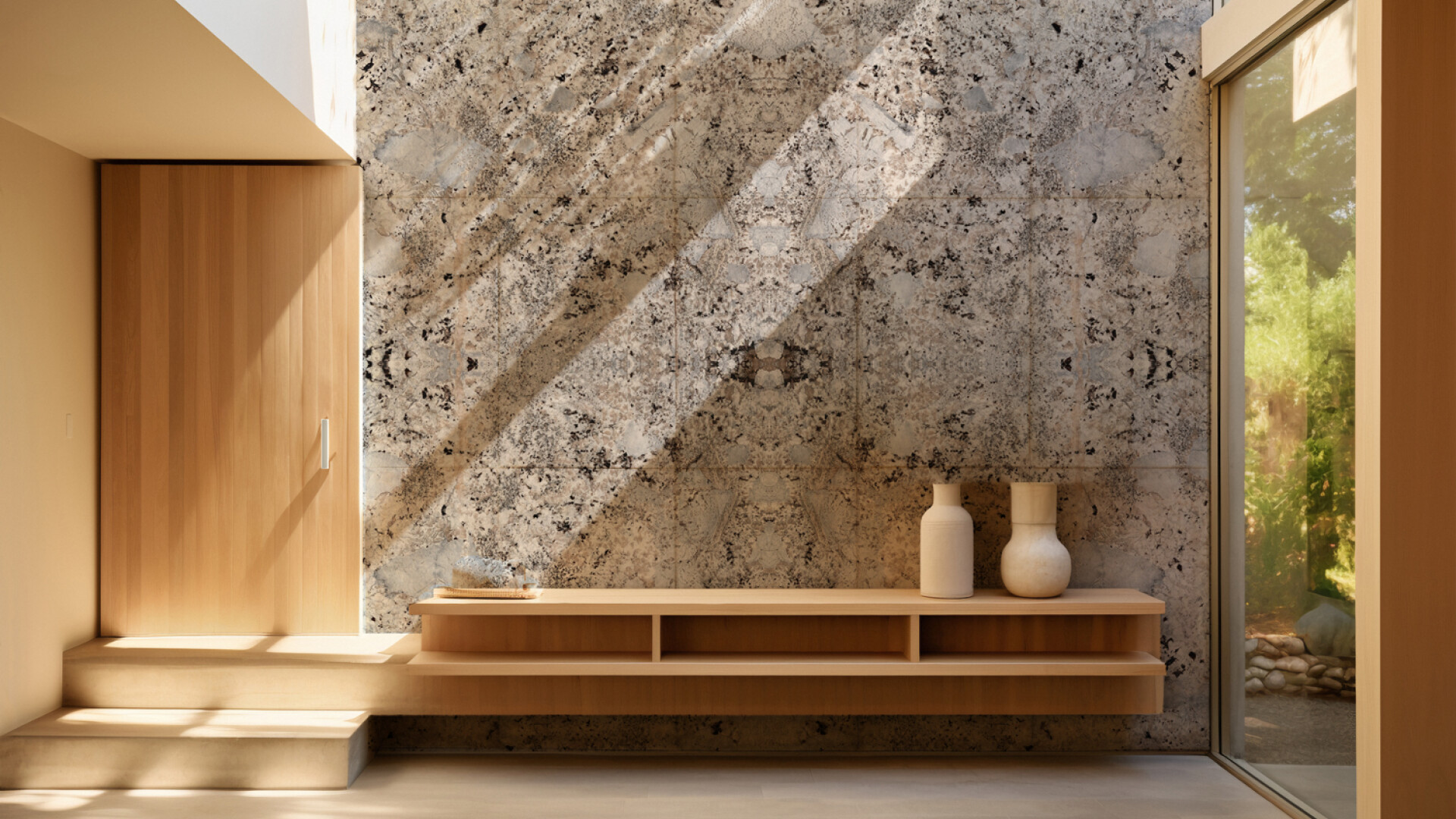 Granite has a wide variety of colors to choose from when decorating a professional or domestic space to your liking; it is essential that lighting not be neglected for all such design projects when you want to enhance each individual environment.
Lighting plays a significant role in how color interacts with various spaces, as it affects our perception of colors, their vibrancy, and the overall atmosphere that they help create.

Choosing flooring and cladding for your spaces is therefore a major decision that necessitates careful consideration of several factors. The search for materials must be given the same consideration as that of the lighting design; in fact, when used together, they form two invaluable resources allowing you to achieve the look you desire.

It is important to keep in mind functional concerns as well as those of styling: aesthetics must also be flanked by crucial elements such as safety, durability, and suitability.

Choosing granite as a natural stone can prove to be the perfect solution for your spaces, for both interiors and exteriors, for wall cladding, stairs, or interior design works...

But it's no surprise when you consider all its amazing advantages, qualities, and the incredible number of colors to choose from.

Granite Characteristics
The origin of granite has fascinated scholars for decades, leading to a number of theories, but the most widely recognized definition to date is the one placing granite under the category of intrusive igneous rocks. During the long process of solidification and transformation, mineral inclusions, formed of granules, shift and recrystallize, creating a hard material that is extremely durable.
Granite — in Latin "granum" which means, appropriately, "with grains" — is an extremely attractive natural stone that has always been used to decorate both domestic and professional spaces.
It is an especially popular natural stone thanks to its incredibly durable composition, used by contractors in a variety of construction sectors as an optimal option for bathrooms, kitchens, stairs, interiors, and exteriors.
It is a material that can satisfy a wide range of aesthetic preferences: granite's internal impurities are precisely the source of its myriad stunning hues.
Its hues and shades are most vividly and elegantly enhanced by beams of light intersecting and reflecting off its surface. The light creates an almost liquid effect with occasional subtle variations in color, always changing depending on the various finishes applied.

Granite Cladding and Flooring: The Importance of Light

In design, lighting is tasked with uniting aesthetics and functionality, seeking the perfect balance between decorative and technical lighting.

While lighting identifies decorative solutions that can offer a uniquely distinctive style, it also ensures the proper light levels needed to carry out the intended activities without eyestrain.

Finally, lighting serves as a quintessential indicator of both a location's atmosphere and its level of hospitality: it influences emotions and moods and alters our perception of a location's space and ambiance.

When planning interior design spaces, the goal is therefore to create comfortable, functional environments with a strong focus on style and design, using both the lighting design and choice of materials to achieve this goal.

Light is essential in order to fully appreciate cladding made with granite, enhancing granite's numerous hues and variations.
Floors, shelves, and designer items made using this stone are distinguished by hues and gradients of color that are highlighted or muted based on the surrounding lighting. Lighting therefore plays a key role in the final outcome of slabs within an environment.
Granite Colors
Nowadays there are a variety of granite types to choose from, able to meet all your needs and requirements. From the elegantly iconic Titanium Top, with a black base and ivory-colored inclusions, to the striking and enchanting Golden Green with deep yellow-gold veining that emphasizes and highlights various shades of green.
Unique, custom finishes can make granite's color combinations even more incredible. The most prominent granite colors are white granite, red granite, and black granite.

White Granite
It is notable for its compact and predominantly white texture, often shot through with inclusions or shades of a more intense color. This stone is highly durable, suitable for both indoor and outdoor use, and is especially suitable for stairs and stairways. A few examples of our white granites are: Cortina granite and Tourmaline granite.
Red Granite
Red granite is one of the most widely used granites in construction and decoration. Red Collinas granite, with its subtly busy pattern, is one of the most popular types. This granite is detailed with bold purple lines, pinkish hues, small flecks, and white spaces on its surface.

Gray Granite
Gray granite is known for its use in a variety of settings, such as urban fixtures, monuments, decor, and civil and industrial construction. Atlantic Stone has a blue-grey hue, which can be lighter or darker depending on the presence, or absence, of more delicate or bolder veining. Our Soap Stone has a distinctive color created by a blend of several shades of gray, from lighter to darker tones, shot through with bold streaking. Virginia Black comes from America, with a uniform, medium-fine, dark grain softened by a pale speckling of small particles. Glacier granite natural stone from Brazil has a light gray background color and is dotted with veining, spots, and inclusions of different colors. Atlantic Grey granite shows a subject rich in detail and history, with a perceptible textured feel. The unique color of our Artic Ocean granite, its uniformity broken up by strong, deeply colored veining, gives environments an elegant brightness.
Black Granite
Black granite is ideal for major large-scale projects, such as building cladding and flooring, thanks to its elegantly refined color and inherent hardness. Examples include: our exclusive Black Vermont granite stone which captivates with its compelling charcoal gray hue, accented with subtle tone-on-tone veining. Nero Assoluto Zimbawe, also known as Absolute Black or Pretoria Black, is a natural stone quarried in South Africa, widely regarded as the quintessential black granite. There are, however, other vibrant and elegant materials, such as our widely renowned Milky Way granite, prized for its predominantly dark, fine pattern, with light white veining and speckled inclusions; or our Black Storm granite from Angola, with a deep black color softened by golden-white veining.

Conclusions
What are the characteristics of granite? Granite is an extremely resistant rock, and can have a wide variety of hues and colors. It can be used for both outdoor and indoor environments and is especially suitable for stairs and stairways.

The synergy between Interior Design and lighting plays an extremely crucial and vital role. In fact, no matter how small or large a space may be, well-placed furnishings and well-designed, functional lighting can make people perceive a space in a different manner.

Looking for a granite or natural stone solution? If you are looking for premium high-grade marble and granite, download our catalogue to discover what Favorita can offer for you!
Contact us

to find out more

Write to us and request more information, we will be happy to answer any questions.
Join our
newsletter
Stay updated on the latest news!