News
Our natural stones from the world: offered by Favorita, perfect for every style
04 July 2023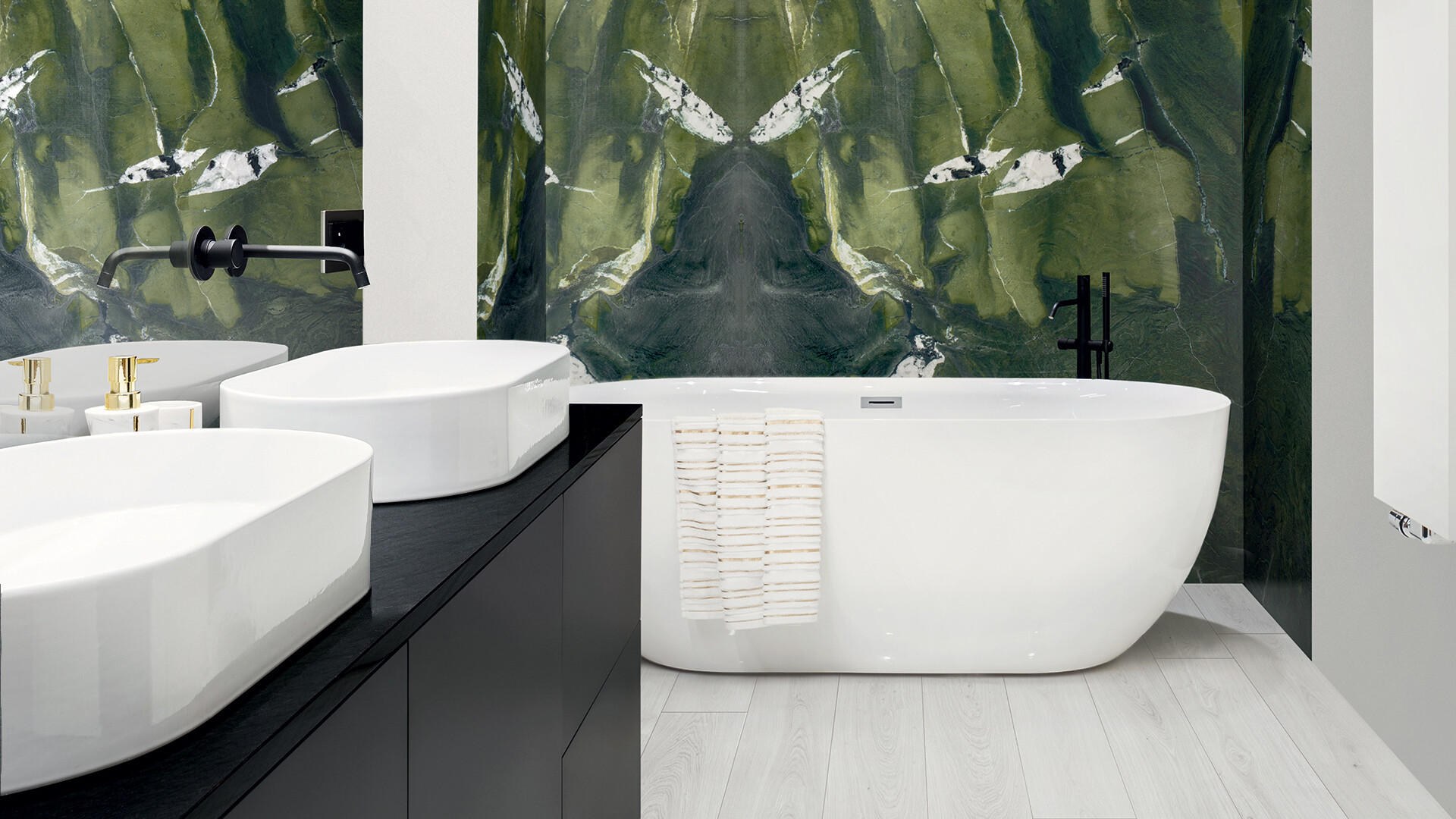 Natural stone is design: it is one of the oldest construction materials in the world, lovely to look at, durable and outstanding as a construction material
Stone is design: ever since the beginning, a material that combines elegance and efficiency, making every environment unique.
But what is it that makes natural stone so suited as a construction material?
Stone is easy on the eyes. It is also totally natural and always unique in its kind. It has intrinsic qualities that make it an exceptional construction material, both in terms of strength and of hardness.
Its main distinctive properties are: great weight, resistance to pressure and engraving, to wear but also to fire and to weather.
We have been in love with these natural elements for 60 years: the exclusive stone tradition and experience of Favorita blend to discover and propose only the highly-prized and appreciated masterpieces of the natural metamorphosis of the elements.
What stone to select for every room?

When you decide to use natural stone for your projects it is of paramount importance to know the differences between the various stone materials. Each one has its own structure and special appearance.

All our stones are unique: there is an almost infinite variety of types of natural stones. This peculiarity is reflected in the smallest elements, histories and origins that make up the material.

Since stone is a natural element it also harmonizes perfectly with landscaped areas and lends itself to be a decorative element of gardens or community areas.

Ours is marble at first sight: a spark lit 60 years ago and we still love marble and our work as if we were making our first slab.
Marble is a classic architectural material, suited to an infinite variety of uses. It belongs to crystalline and metamorphic rocks that derive from calcium carbonate. This element forms in nature through a crystallization process: when the calcium carbonate enters into contact with sedimentary rocks this permits formation of crystals of calcite and other minerals, including silt, clay, iron oxides, sand and nodules of flint. The amount and composition of these minerals determine the color of the marble.
The many colors we offer, among the most sought-after in the world, are striking for their great richness and esthetic complexity: the veins, nuances and natural marks of exceptional beauty make it possible to implement projects with classic taste but that are at the same time profoundly contemporary.
Our marbles embody refinement and elegance of Nature, unequalled and timeless. They enchant the eyes of those who refuse to make compromises and make style a must-have.
Dolce Vita, coming from Australia, is a type of marble boasting great esthetic value. It has a deep cream color, decidedly prized and elegant, showing beauty enclosed in a sinuous play of veins and lines tending to golden ivory, surrounded by slight shades of dark hazelnut.
This marble, pure and simple, is a superb way to refine every environment, indoor or outdoor.

Everyone is always granite with us…
Customers, collaborators, suppliers, consultants, people, friends… welcoming is always a pleasure with us because we always want it to be wonderful to work with us.
We select some of the most sought-after and exclusive varieties coming from the best quarries in the world, proposing different color and stylistic types of granite.
Granite comes from "granum" - "in grains", in Latin. Granite is a rock of volcanic origin that cooled slowly down under the earth's crust. Granite is one of the most abundant and widespread natural stones on earth and above all one of the strongest.
Granite is a material that catches our gaze and provides infinite solutions for furnishing any space with a unique, refined and spontaneously elegant style. Our very broad range meets all stylistic desires: plenty of colors to make it possible to match different esthetics and tastes.
Our Black Vermont slabs, a natural stone from Brazil, are an internationally exclusive of the Favorita collection.
This stone is perhaps one of our most beloved granites thanks to its deep and overwhelming tones. Its unique lignite grey color is made precious by thin tone-on-tone veins.
Our Black Vermont granite is suited to every use and especially for kitchen countertops. It is much appreciated by architects, designers and interior designers.
We are more onyx than rare…
Knowing how to choose is style, being able to select is exclusivity. An emotion for each of our materials, some of which you can only experience here.
Onyxes are all different from each other but equally rich in splendor. They are formed of colored limestone sediments: a cryptocrystalline material with translucent transparency. This feature makes it excellent for design projects: it creates a unique atmosphere because this material is so highly decorative, much appreciated in contemporary design and above all can be back-lit to make wall coverings, light fixtures and furnishings.
Onice Verde Afghano is one of our most beautiful stones where jade, an intense green precious stone, moves about inside the stone, mixing softly with both lighter and milky colors and fine and incisive streaks of darker colors such as brown and copper, which cut the surface.
The irregular and moving appearance of the slab is perfectly balanced in an almost liquid space, enhanced by the profound esthetic and chromatic beauty.
This stone fits particularly into bright environments and points of interest.
We are always quartzite on the right foot…
Quality is always a matter of choice. The quality of our material starts from our ability to select the block, then proceeds with processing and gets to final project implementation.
Quartzites, a type of metamorphic rock made of extremely dense material, primarily quartz, feature a fascinating and multicolored structure: original tones and quaint colors go from white to grey, from green to pink and red and even to light blue.
These are an excellent natural material for every design requirement: this material combines perfectly with every type of vein or finish and is perfect for creating color contrasts, plays of volumes and modern and captivating geometric shapes.
Surprising green nuances and white quartz inserts enhance Avocatus Leather quartzite from Brazil.
This quartzite, coming from Brazil and a worldwide exclusivity for Favorita, is the protagonist of prestige design projects: Quartzite stands out for its deep green background and for its light colored white quartz inserts as well as black inserts that enhance the surface and are striking at first glance.
Quartzite is a metamorphic rock that, thanks to its mineralogical composition, is a compact stone, especially versatile, resistant to sudden changes in temperature, fire, heat, and acid products. It is a material with simple care and maintenance, ideal as a covering in interior design projects.

Its distinctive appearance is due to its metamorphic genesis, giving it great strength and hardness. This material is commonly selected to enhance wall covering, vanity tops, kitchen countertops and to decorate both indoor and outdoor spaces.

Our semi-precious stones will make your beauty flourish…
A union of precious stones and deep, transparent and brilliant colors, give birth to precious seeds, natural masterpieces for their complexity and the unique design of their patterns, becoming truly prized, rare and unique pieces.
The great elegance and in-depth harmony of this natural material make our semi-precious stones superb for making elements, ornaments, jewels and everything that intrinsically calls up the idea of extreme refinement.
The semi-precious stones used in the architectural projects and contemporary interior designs express these ideals, creating environments enclosed in a treasure chest of refinement, exclusivity and emotion.
Malachite, rare and semi-precious, is one of our most sought-after stones. It has an intense color featuring brilliant geometric patterns and is perfect for luxury interiors.
Soft light green colored designs give character to an intense green but not monochrome background, rendering the overlapping of wavy and sinuous inclusions.
Our business focuses on constant search for the most prized and purest materials and for sustainable solutions and innovative technologies to best offer our collections.
We select from the entire world only marbles, granites, onyxes, quartzites and semi-precious stones that will create unique slabs:
Contact us

to find out more

Write to us and request more information, we will be happy to answer any questions.
Join our
newsletter
Stay updated on the latest news!