News
Our natural stones, exclusive for your spaces
19 June 2023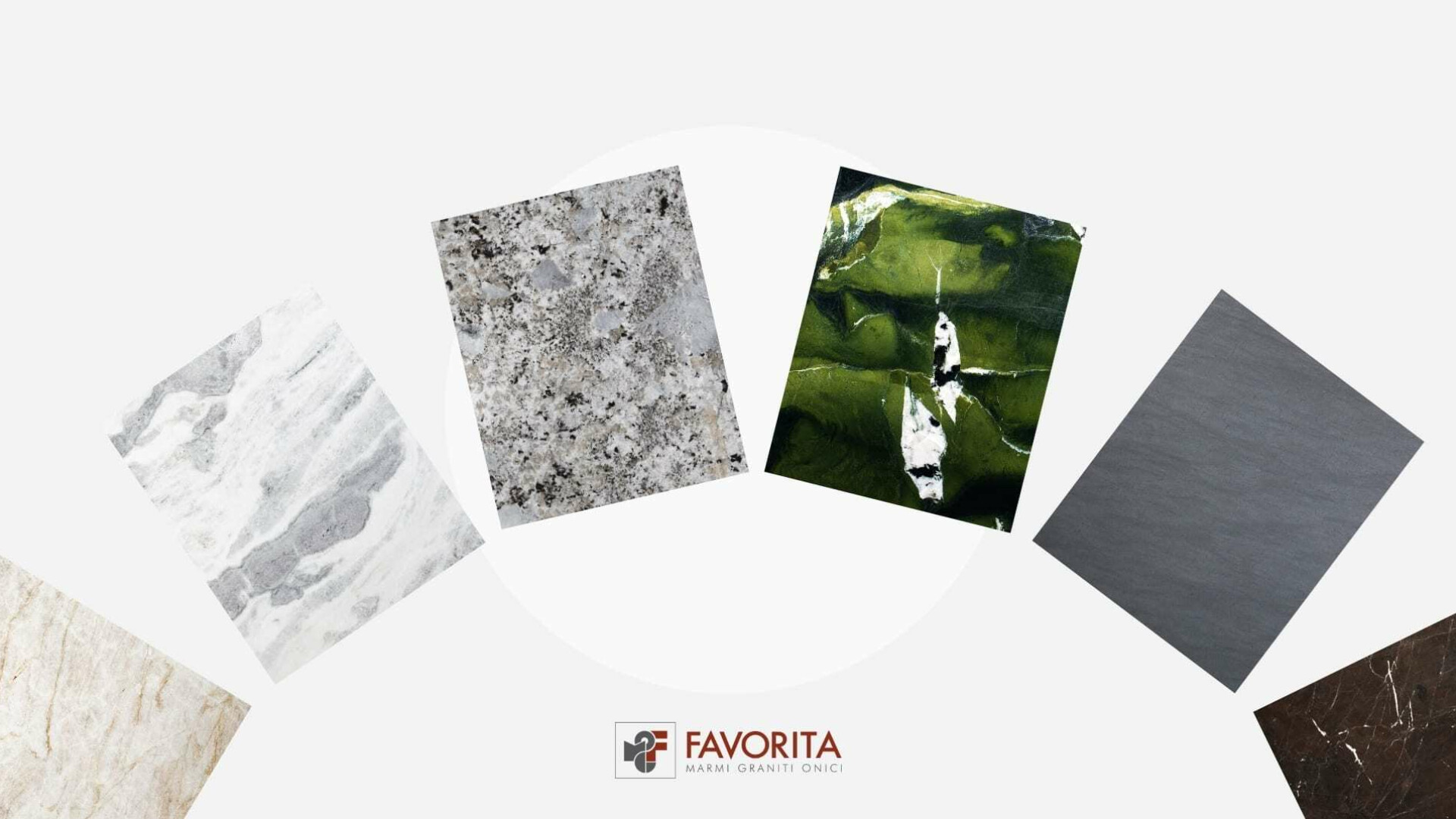 Natural stones for building industry, outdoor areas and indoor coverings: for 60 years we have been searching for and selecting only the most precious and exclusive marble, granite and quartzite materials.
Our natural stones, thanks to their great ability to give environments a natural and gratifying, esthetically beautiful and balanced appearance, make them the perfect choice for building industry and furniture.
Natural stone is one of the most popular materials in modern architecture: great versatility means these slabs can be used as flooring and as surface covering as well as for creating furniture and decoration accessories such as tables, benches or fountains.
In spite of the great versatility of these materials the majority of marble, granite and quartzite used in the stone sector are employed for building construction. Companies like Favorita process natural stones specifically for use in the building industry, creating slabs and blocks with the highest technical and quality standards.
Use of this material to design interiors but also exteriors is not yet a novelty: natural stone has been used for centuries to make buildings, religious, institutional, domestic and commercial spaces.
The Arch of Augustus in Rimini is an example of use of marble as early as 27 BC. But we also have stone coverings in the Middle Ages; during the Renaissance and the Baroque periods precious natural stones were used to decorate the interiors of the most important churches.
We offer our customers many varieties of natural stone stored in our warehouses, selected from the best quarries around the world and processed using techniques at the cutting edge that allow our materials to be constantly rediscovered and appreciated.
What stone covering is most used in the building industry?
Coverings and floorings of spaces often choose to use special types of marble, granite or quartzite that can reflect harmony that only natural materials are able to express.
Some types of granite are often used in coverings and floorings but also as kitchen countertops, bathroom elements and table tops.
Many types of marble, but also varieties of breccia such as our breccia antica, breccia sarda, breccia romana, breccia imperiale and breccia capraia, are often used in wall and ornamental coverings.
Our exclusive varieties of natural stone
Natural stone acquires inestimable value thanks to the contrast, especially in cities, between natural esthetics and man-made environments.
It is our immense passion for Nature that guides us in our search for the most unique interpretations of the metamorphosis of the elements. Floors, walls, kitchens, bathrooms but also representative rooms are all made unique thanks to our exclusive stones, with unequalled esthetics, functionality and versatility.
Our unique pieces are varieties of granite, marble and quartzite. But we also offer a rigorously chosen selection of onyx and semi-precious stones.
Slabs of our exclusive Black Vermont, a natural stone from Brazil, is one of the most beloved granites thanks to its engaging color tones. A singular anthracite grey tone, embellished with subtle tone-on-tone veins, is perfect for all applications and in particular, as you can see in the photo, for kitchens.
Surprising green nuances and white quartz inserts embellish the Brazilian Avocatus Leather Quartzite.
Quartzite, a protagonist in prestigious design projects, stands out for its intense green background and light colored white and black quartz inserts that embellish the surface and are striking at our first glance.
It is an excellent material for enhancing wall coverings, vanity tops, kitchen countertops. The leather-processed finish makes it perfect to extol beauty and three-dimensionality.
Our special Glacier Granite belongs to our exclusive precious natural stones. A granite natural stone coming from Brazil with a light grey background is studded with light and dark colored veins, spots and inclusions.
This is one of our granites that is arousing curiosity and admiration, perfect for interior decoration such as kitchen countertops, bathrooms, dining room and living room walls.
Conclusions
While natural stone can meet the most diverse technical requirements, our exclusive selection complies with all the most modern, captivating, precious and elegant requirements.
Discover our catalogue of exclusive slabs.
Contact us

to find out more

Write to us and request more information, we will be happy to answer any questions.
Join our
newsletter
Stay updated on the latest news!