News
Cavaihome, a space where you can live the emotions of natural stone
14 July 2023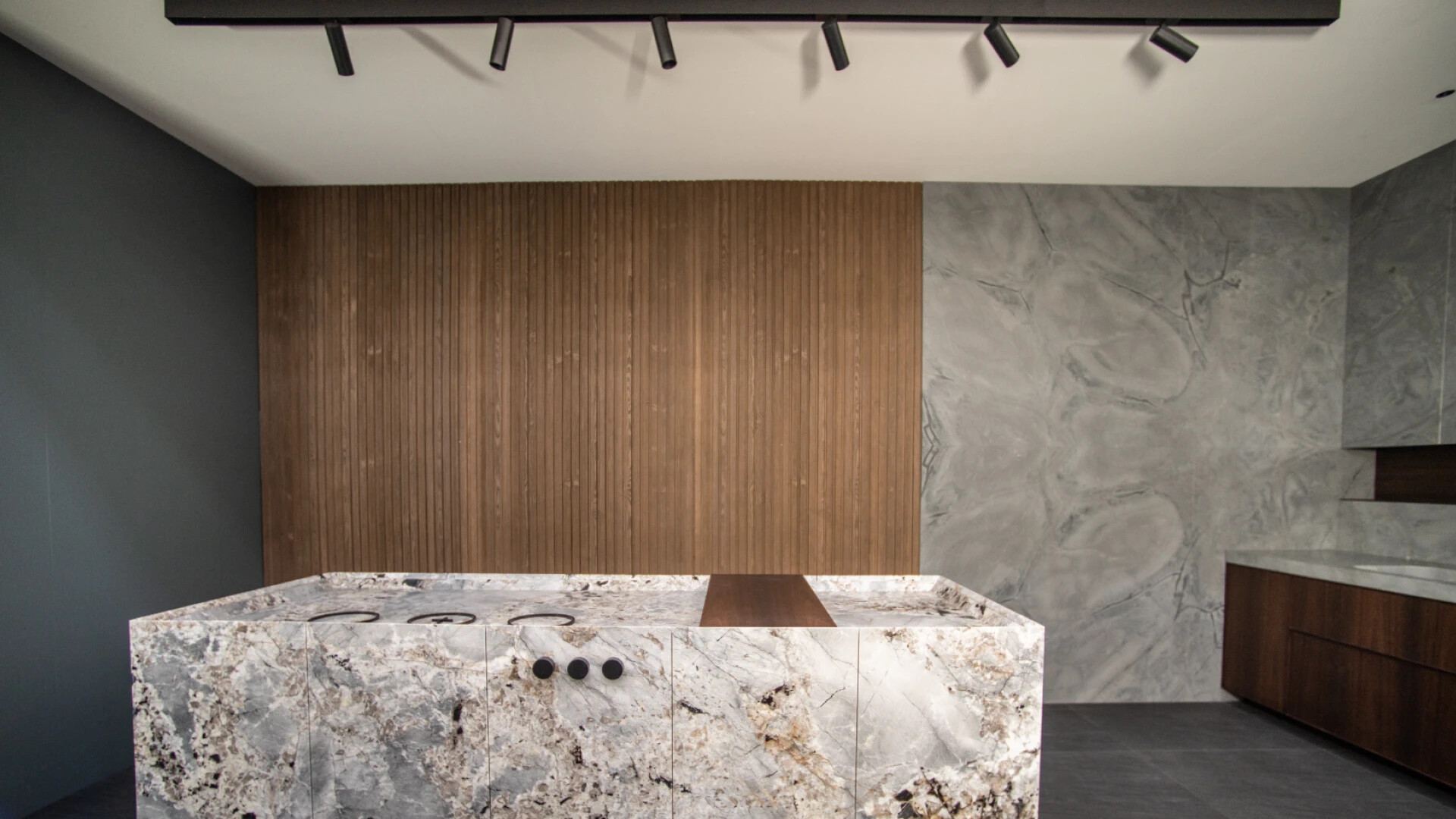 Admiring them is already a spectacle, but appreciating them in the proper settings is even more. The design concept of our showroom expresses the uniqueness of the most prized natural stones as well as our business.
We have been in love with natural stone for 60 years and we are convinced, from the very first day, that for it to be really understood and appreciated it must be touched firsthand and seen in first person.
Hence our decision to create, in our Verona headquarters, located in the heart of marble and natural stone district of Verona, a space to be used exclusively as showroom where it is possible for our slabs to give their best and express themselves.
We offer our customers and all those who wish to know our business and our selection of our raw material in first person, the possibility of seeing the quality of the products that decorate contemporary, luxurious and elegant spaces.
The spaces of our showroom
The growing need to express ourselves with international designers, even in reply to increasingly demanding customers, has led us to renovate the company showroom and to propose special creations.
Cavaihome, for an immersive and quality experience, presents three interpretations that express some of the most important facets of the many potential uses of natural stone.
4 interior design proposals are exhibited and always available to the public in our Cavaion Veronese showroom:
• 3 kitchens: Beautyfood, KITCHE'N'JOY and SHOWCOOK
• 1 bathroom: BATHYFUL.

Kitchen: Beautyfood
Wonder is served: preparing breakfasts, lunches and dinners with our natural stone proposals will be an even greater pleasure!
This truly surprising kitchen shows off our Georgia Black granite and Mustang Quartzite.
The hob and sink are made with our GEORGIA BLACK granite with a deep and intriguing color crossed by light streaks of color. Our Mustang quartzite, with its white and grey background and light veins, completes the space and offers a decorative design solution with many suggestive effects.
Kitchen: KITCHE'N'JOY
The play of light and dark tones is the exclusive ingredient of this kitchen, customized with our natural stones.
This kitchen uses our Breccia Imperiale and Mont Blanc quartzites.
The Mont Blanc white quartzite with grey veins gives the kitchen the crystalline appearance that is ideal for this type of interior. Breccia Imperiale completes the space by covering island and floor. It is highly appreciated for its peculiar combination of white vein patterns that cross its entire length and for its acid-resistance that makes it perfect for this kitchen countertop.

SHOWCOOK
Cooking is an art and creating dishes surrounded by the beauty of our materials makes a true masterpiece of this kitchen space.
In this kitchen we have our Glacier and Atlantic Blue granites.
The island of this kitchen uses one of the most precious and exclusive natural stones from Brazil: the light grey color tones and the darker veins of Glacier make this space an eclectic and elegant environment. Atlantic Blue, thanks to its refined cloudy structure and the blue-grey background color crossed entirely by sinuous lighter veins, lends itself perfectly for the rest of the kitchen.
BATHYFUL
The beauty of our natural stones is perfect for enhancing any space, making it possible to dedicate ourselves to a special and unique moment of well-being.
Our Esmeralda Light quartzite, with its brilliant green color made unique by an irresistible texture of delicate chromatic effects, is the protagonist of this bathroom proposal.
The surface reminds us of the transparency of water, making it the perfect material for this design space.
We have been able to achieve this ambitious project thanks to our experience gained in over 60 years of business in the global natural stone sector.
The marvelous colors and finishes of our slabs tell us of these design projects that are always unique and able to reflect the most profound sensations and design requirements.
We are awaiting you in our showroom where you can both experience our slabs by touching them and also have one more way of getting to better know our business.
Cavaihome is ready to welcome you: come and see us, we are awaiting you!
Contact us

to find out more

Write to us and request more information, we will be happy to answer any questions.
Join our
newsletter
Stay updated on the latest news!